Sony announced the PlayStation Plus update for June 2013 and it's packed full of content.
PlayStation Plus members have quite a month ahead of them. This week subscribers will be able to get their hands on a free copy of Deus Ex: Human Revolution. Along with this announcement Eidos Montreal tweeted this morning stating, "Are you ready for the fall?", a reference to their rumored next title. Sony has given out earlier games in a series prior to an announcement or release before, this could be another one of those instances. Later this month PlayStation Plus members will also receive a copy Saints Row: The Third but Sony didn't clarify if it was the complete edition or the date it would be released. Subscribers are also receiving Orcs Attack, Virtues Last Reward, and Machinarium (crossbuy) at some point this month. Tomorrows update also gives PlayStation Plus members greater discounts on Portal 2 and Grid 2.
Are YOU ready for The Fall?

— Eidos-Montréal (@eidosmontreal) June 3, 2013
Son also mentioned that these aren't the only games coming out this month for PlayStation Plus members. Sony hasn't announced any of the games that we will be seeing but we know for a fact that all of the games currently in the instant game collection are about to expire (Sleeping Dogs, Closure, Ratchet & Clank All 4 One, Infamous 2, Little Big Planet 2, Soulcalibur: Broken Destiny, and BlazBlue: Continuum Shift Extend). Maybe Sony has a big announcement for PlayStation Plus next week at E3? It sure seems that way.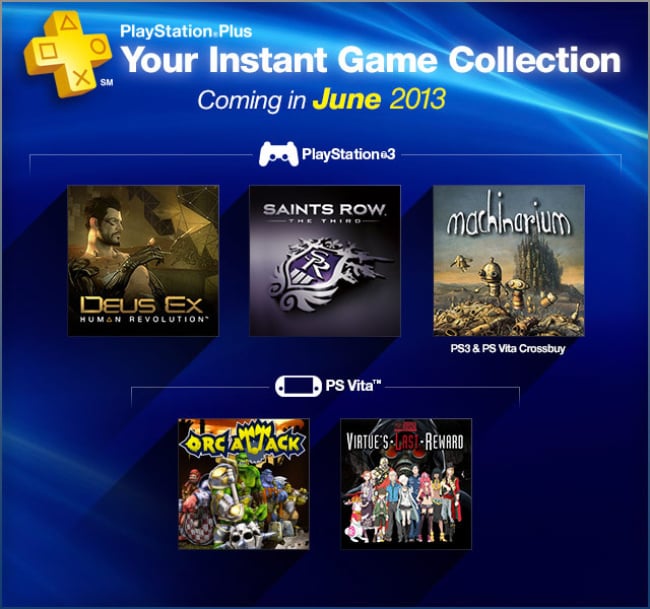 Last year at E3 Sony announced the PlayStation Plus instant game collection and it was released the next day, maybe Sony is planning to have another huge instant game collection update this month. Sony's E3 press conference takes place next week on Tuesday June 11th. What games do you want in this months PlayStation Plus update? Let us know in the comments.
Source(s): Joystiq, US PlayStation Blog, Twitter, Push Square